The blunder from Down Under! Black Caviar wins despite jockey error

Report: Royal Ascot, Saturday
Diamond Jubilee Stakes (Group 1) 6f, 3yo+
BLACK CAVIAR came within a whisker of losing her unbeaten record after jockey Luke Nolen dropped his hands in the closing stages and almost allowed Moonlight Cloud to steal the race on the line.
The Australian sensation was less imperious than her 1-6 odds and massive reputation suggested, but she was heading for an easy victory after powering a length clear of front-runner Soul.
Yet to the horror of the thousands of Black Caviar fans watching at Royal Ascot, on big screens back in Australia and on TV screens around the globe, Nolen stopped riding out even as two rivals crept up on his inside.
Only in the shadow of the post did he begin riding out again, flashing past the post amid a cacophony of noise coming from a packed Royal Ascot grandstand awash with Black Caviar's black and salmon colours.
And another immense roar went up moments later when the official result announced Black Caviar had hung on by the skin of her teeth. The Wonder from Down Under was still undefeated - just.
The mare's jockey, having narrowly avoided suffering a similar fate to Mike Smith who was widely blamed for causing Zenyatta's first defeat in the 2010 Breeders' Cup Classic, was understandably contrite in the aftermath.
"I probably underestimated the testing track of Ascot," he said. "It is quite unfortunate because it is going to over-shadow what was a good win. I under estimated the straight six here. It was pilot error but I got away with it."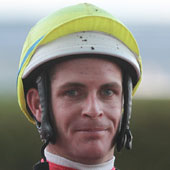 Luke Nolen: nearly lost the race
PICTURE:
Masakazu Takahashi
After weeks of build-up and as much interest in speculating how far she would win by as whether she would merely win, there was no escaping a sense of anti-climax in the final result. However, her trainer Peter Moody insisted a win was a win no matter the details.
"You have only got to win by a quarter of an inch," he said. "We never expect dominance. We never ask her for dominance. She is 22 from 22 - it is never about margins and never about dominance. I am an extremely proud Australian. Words can't describe the feeling."
After travelling half-way around the globe and escaping losing her precious unbeaten record so narrowly, there was little surprise after the race when connections announced Black Caviar would be on the first plane back to Australia.
Moody added she had not been 100 per cent after the race and could be retired when she returns home.
If this proves to be have been Black Caviar's last race she will retire unbeaten and unbowed, having secured at Royal Ascot a 22nd consecutive victory and a 12th Group 1.
And while she did not dominate Royal Ascot as Frankel did, or blitz the British as her Australian fans hoped she would, she still travelled across the globe to face the best a foreign land could throw at her and prevailed. She returns home a champion.